Minutiae are the little things in life, the trifling, piffling details that in themselves don't amount to much but which, collectively, go towards adding colour and tone and structure to the bigger picture.
Pronounced something like "my new shy", minutiae give their name to a blog that looks at the trivia that shouldn't really matter but without which lives become bland and impersonal.
I'm a bit of a technophobe myself, so don't go for complicated equipment. Most photos here are either from some common-or-garden point-and-shoot digital camera or other (occasionally with judicious cropping) or a mobile (that'll be the more hazy bleary pics).
For slightly more consequential matters, do have a look at my calmgrove blog
Exploring the world of ideas through books may sound a little pretentious but it's just an excuse to put out some thoughts about literature in general
Posts from calmgrove and MyNewShy reappear on my Tumblr page Minutiae
I also sometimes post photos of doors on the Legion of Door Whores
and also images of windows at What Light Through Yonder Window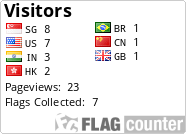 This work is licensed under a Creative Commons Attribution-ShareAlike 3.0 Unported License.